Rajasthan Bans Firecrackers | Anticipating the third wave, the state government on 30th September 2021, banned the sale and bursting of firecrackers. The decision was taken in view of its adverse impact on Covid patients and those suffering from heart and respiratory diseases. The ban would be applicable from October 1 to January 31, 2022.
As per the latest Advisory order released by Principal secretary (home) Abhay Kumar to Licensing Authority, the authorised licensing authority has been advised not to issue any temporary licenses under Explosives Act 1884 & Explosives Rules 2008.
Firecracker Ban in 2020
During November 2020, in a press release by CMO, Rajasthan Chief Minister Ashok Gehlot has issued directions to ban the sale of firecrackers and restrict their use to protect COVID-19 patients and the public from their ill-effects. He said in the challenging times of a pandemic, the safety of people's lives was the government's top priority.
"In order to protect the health of COVID-19 infected patients and general public due to poisonous smoke emanating from firecrackers, strict action has been taken to prohibit the sale of firecrackers in the state and restrict the movement of vehicles without fitness certificate," Gehlot tweeted.
On 1st November 2020, chief minister also review the Covid-19 situation in the state and the 'No Mask, No Entry' and 'Shuddh Ke Liye Yuddh' campaigns at the chief minister's residence. The CM also issued instructions on Unlock-6 guidelines.
He directed to take strict action against the sale of firecrackers and fireworks in the state and polluting vehicles running without fitness to protect the health of coronavirus-infected patients and the general public from the toxic smoke emitting from them.
The chief minister said people with Covid-19, heart problems and breathing troubles face problem due to smoke from firecrackers. "People should desist from using crackers on Diwali," he said as he ordered a ban on temporary licenses for the sale of firecrackers. Gehlot said the use of firecrackers should be banned during weddings and other events. He added, in a situation like this, people should avoid using fireworks on Diwali.
Government Order of 2020
On 3rd November 2020, the State government has issued official notification as per the powers conferred on it under the section 4 of Rajasthan Epidemic Act 2020. As per the regulation specified in notification:
No shopkeeper shall sell any kind of fireworks.
No person shall use or allow to fire any kind of fireworks.
Additionally, in exercise of the powers conferred by section 11 of the Rajasthan Epidemic Diseases Act, 2020, the State Government has penalties on violation of above regulation. As per the notification
Offence
Penalty
Any shopkeeper selling any kind of fireworks.
Rs 10,000
Any person found using or allow the firing of any kind
of fireworks
Rs 2,000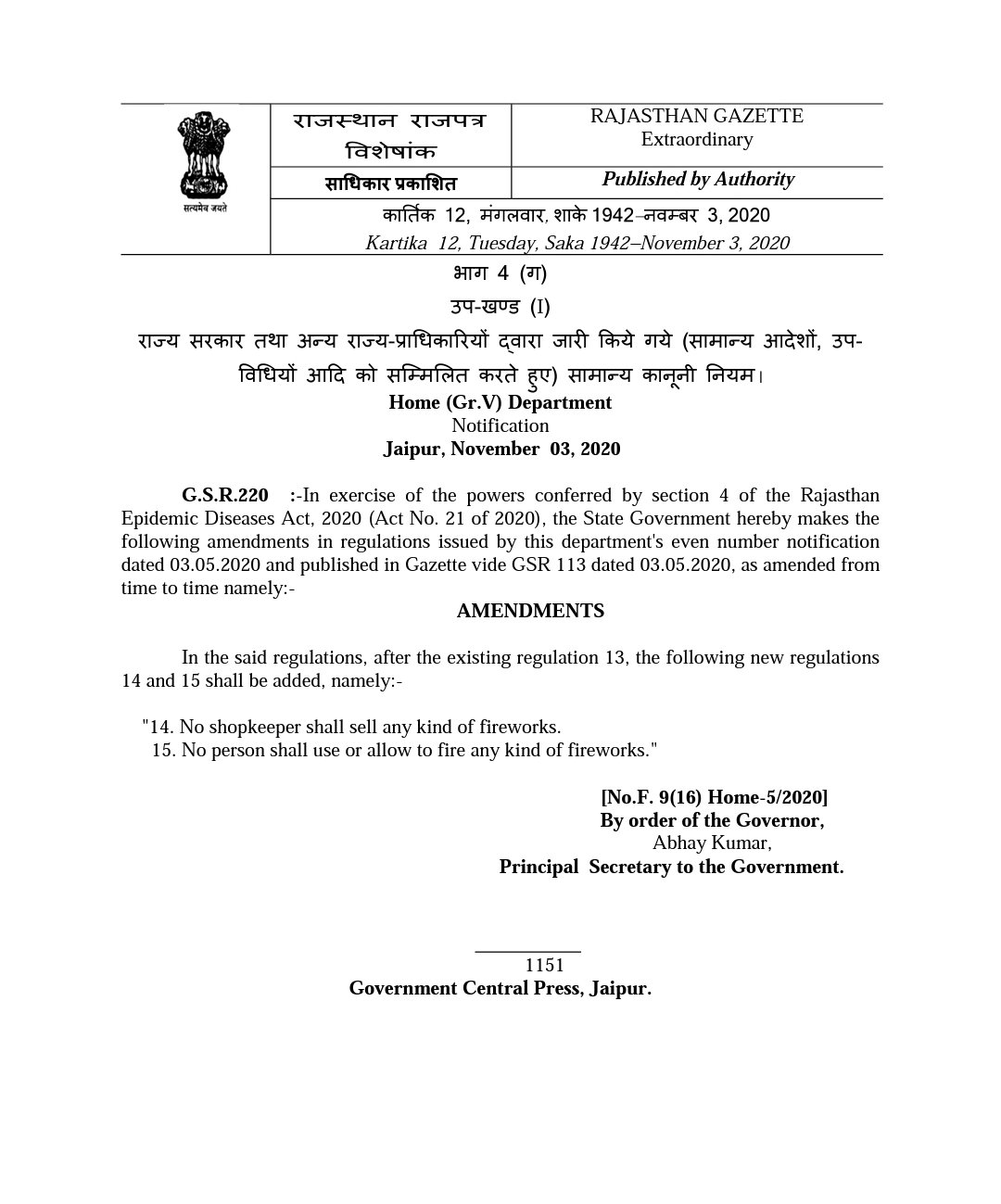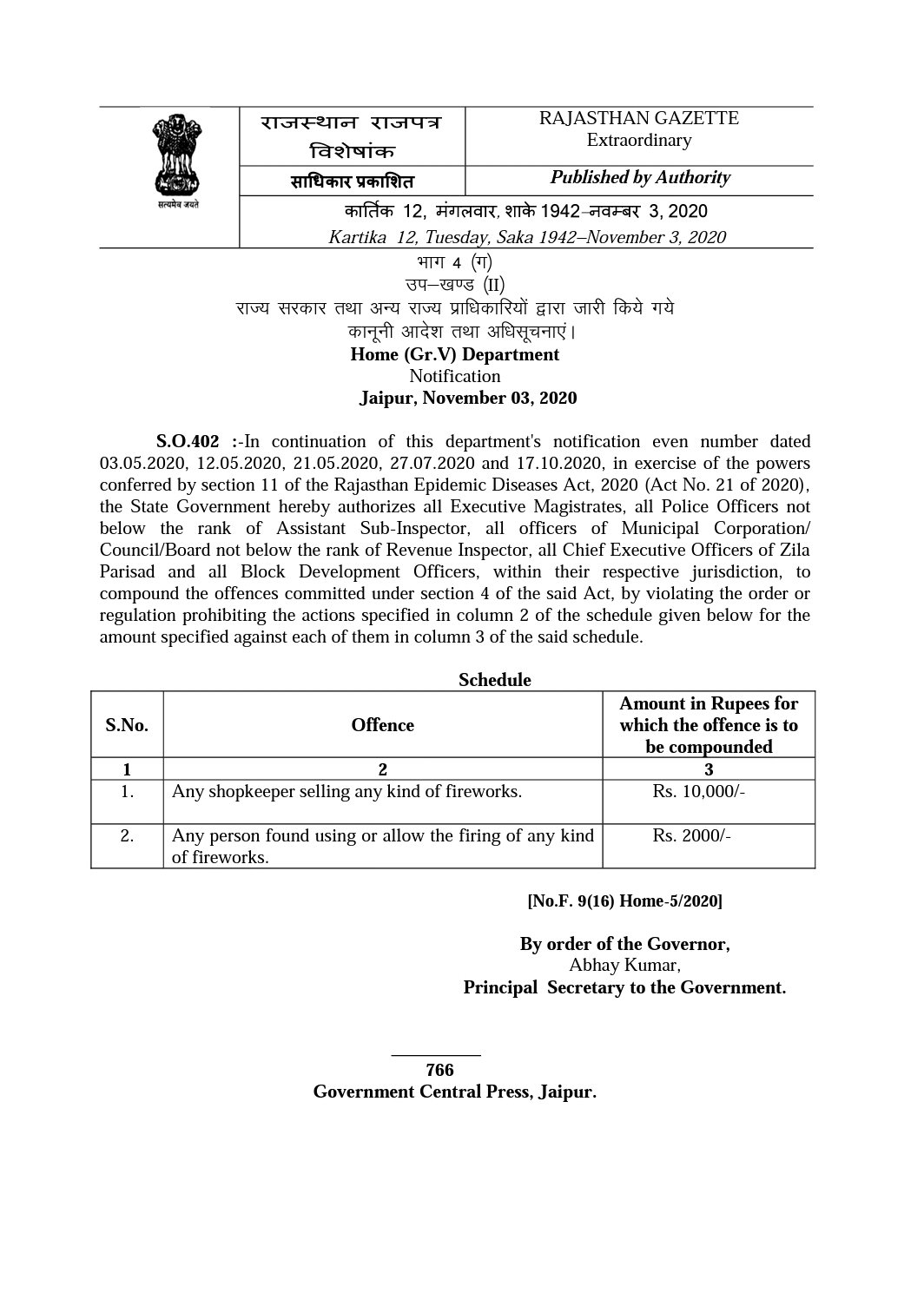 References:
Note: This is not a government or official website. This is private information site, where information has been provided for benefit of people. We have made all efforts to provide genuine information & as far as possible authentic, genuine sites have been used for reference.