This page lists relevant news items, important updates related to condition of Corona Virus in Rajasthan.
RAJ. CMRF COVID-19 MITIGATION FUND | राजस्थान मुख्यमंत्री कोविड-19 राहत कोष

State Government has setup Special Fund under CM Relief Fund for #COVID19. Citizens urged to contribute
From midnight tonight onwards, the entire country shall go under complete lockdown for 21 days.

PM 24th March Address to Nation
Coronavirus in Rajasthan: Updates April 01
State Govt. Employees: March Salaries Deferred
Chief minister Ashok Gehlot deferred payment of 75% of his gross March salary to himself along with deputy CM, cabinet ministers and all MLAs. The decision was taken at a cabinet meeting held at the CM's residence on 31st March . The move has taken due to the shortfall in the expected revenue of Rs 17,000 crore for the month of March.
Similarly, 60% and 50% of the gross salary of Indian Administrative Service (IAS) and Rajasthan Administrative Service (RAS) officers, respectively, has been deferred by the government. Other than Grade IV employees, 30% of the salaries of all other government employees will be deferred for some time.
The 30% deduction will be applicable also to pensioners. Health workers, policemen and contractual employees have been exempted from this deduction.
Financial Assistance of INR 1500
State Government has decided to give a financial assistance of Rs 1,500 to BPL families, beneficiaries of state BPL and Antayodya Yojna, 25 lakh construction workers and registered street vendors who are not covered under the social security pension scheme. The total cost of the financial payout will be Rs 500 crore.
266 coaches to be made quarantine units
The engineering wing of North Western Railways (NWR) is tirelessly working to convert 266 coaches into isolation wards for keeping Covid-19 suspects. These coaches will have extra space for oxygen cylinders, medical equipment and toilets. With the preparation of these coaches, NWR will be able to accommodate 4,256 isolation beds for patients to be brought for quarantine isolation.
Extension in Curfew & Movement restrictions
The prohibitory orders (Section 144) imposed in Jaipur district and curfew clamped in Walled City have been extended indefinitely from March 31 midnight in the light of the spurt in corona positive cases.
No one will be allowed to step out of their houses from April 3 to April 13 in Bhilwara and supply of essentials will be regulated during the period.
Cases Updates:
MOHFW – No. of cases in Rajasthan:

93 (Source – Covid19India)
14 people, including 10 evacuees from Iran, were diagnosed with Covid-19 till 31 March afternoon, taking the total number of cases to 93 in the state
Update 30 March
New Financial Year from July 01
The central board of the RBI, finalised that the fiscal year 2020-21 for the central bank will start from July 01. Fiscal 2019-20 will end on June 30, 2020 while fiscal year 2020-21 will be beginning on July 1, 2020 but will end on March 31, 2021. Thereafter, all fiscal year will begin on April 01 every year.
No Intention of extending Lockdown
Cabinet Secretary Rajiv Gauba has denied reports that the lockdown would be extended beyond 21 days. He said such reports were baseless.
Tracking of Pregnant Women
Chief Minister has ordered the officers to track down pregnant women across districts & register their due delivery dates. The officers should make arrangements to ensure their safe delivery.
Extension in retirement date:
The retirement date of medical & para-medical staff, who were retiring between 31st March to 31 August 2020, has been extended till September 2020.
Screening in Rajasthan
In an interview, State Health Minister shri Raghu Sharma has informed that Rajasthan has completed screening of more than 3 crore individuals of 78 lac families.
Cases Updates:
Corona Virus in Rajasthan: Update 29 March
More ventilators & Kits required
Chief Minister Shri Ashok Gehlot has said that there will be requirement of approximately 10,000 ventilators, 14000 ICU beds and more number of test kits in the case of more spread of COVID-19 infection. It is being anticipated that Rajasthan would require 2 ventilators & 2 ICU Beds per 10,000 of population.
Rapid Testing Kits: The State government is also in process of procurement of these kits. The possible community spread in Bhilwara can be stopped at the right time by conducting mass screening with the help of this rapid test kit.
Take Special Care of Elders
The data across the world shows that maximum deaths occurred due to COVID-19 was of people aged more than 79 years. In such circumstances, people should be made aware that elderly people and children should not be allowed to mix with others so that there is no danger of infection.
Current Testing Capacity Is 1300-1500 Per Day
Medical Education Secretary Shri Vaibhav Galariya said that at present the testing capacity at Sawai Man Singh Hospital is 1300 to 1500 per day. Around 500 tests per day can be done more after Mahatma Gandhi Medical College which is waiting for approval from ICMR. He said that sufficient quantity of kit is available for testing the current number of suspected patients but in the coming time 10,000 testing kits would be required.
In 10 days, 1.5 Lac enter state through Dungarpur
At least 1.5 lakh workers entered Dungarpur from Gujarat and Maharashtra walking on feet in the past 10 days. The border had been ordered to be sealed earlier, but following immense pressure, the border has been opened for migrant labourers on Saturday.
Agriculture-Farming and allied activities exempted from Lockdown
Government has granted relaxation in the nationwide lockdown for activities related to agriculture-farming and allied activities with a view to address problems being faced by the farming community. This will also ensure uninterrupted harvesting of crops.
Indian Railways to give full refund
Indian Railways has decided to give full refund for all tickets for journey period from 21st March – 14th April 2020. These instructions shall be in addition to and in continuation of the relaxations in Refund Rules vide instructions dated 21-03-2020. (Read: Complete story)
Covid19 Initiatives by Government e-Marketplace (GeM)
Government e-Marketplace (GeM), a Special Purpose Vehicle under the Ministry of Commerce and Industry, has taken a number of initiatives in the fight against COVID-19 Pandemic. A dedicated page for COVID 19 related categories has been created on GeM: https://gem.gov.in/covid19
Cases Updates:
MOHFW – No. of cases in Rajasthan:

54
Pressure on Central Bus Stands
There is huge pressure building on Central Bus Stands of major districts across India with migrant labours and students trying to go back to their native places. Delhi's Anand Vihar bus-stand was overwhelmed by the massive crowding of migrant population waiting for means to go home. At least 1,000 UP Roadways buses, backed up by 2,000 private buses, trucks, trolleys, tractors, goods carriers and any other vehicle that the authorities managed to bring out of the lockdown ban were deployed.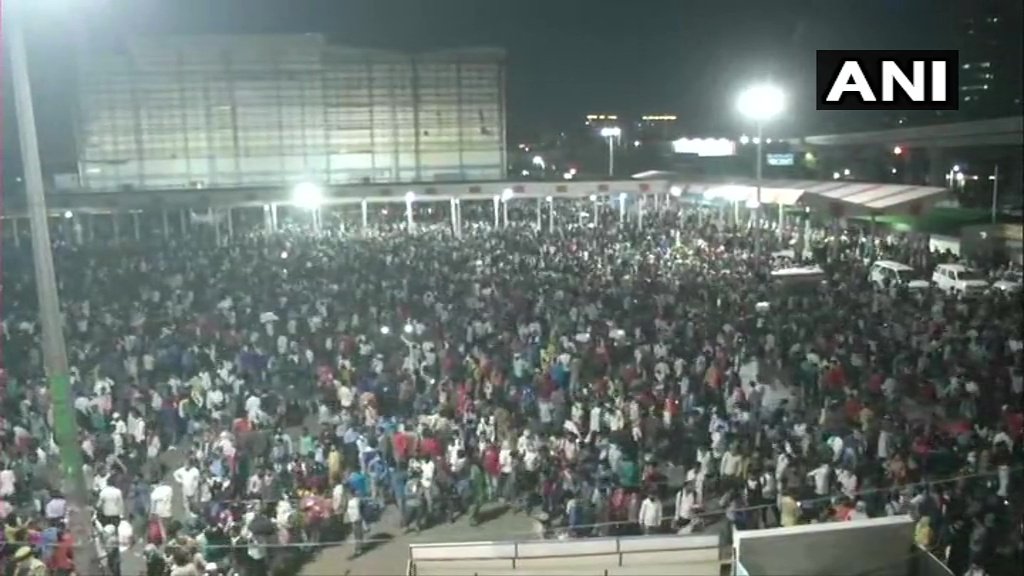 Back in Jaipur, the situation was somewhat better with lesser population & proactive authorities. There was effort to maintain social distancing & buses were sanitised before people were made to board them.
Update 27 March
Meity, GOI Releases beta version – Corona tracking Android App
Ministry of Electronics, Information & Technology (MEITY), Govt. of India has released a beta version of the Corona Kavach mobile application, which is still undergoing final testing before its official release. This app is being developed in public interest to give information and capture the outbreak of Corona Virus. The data will be used to conduct analysis and provide information about the active COVID 19 cases in India. The will notify you whether you have been in touch with a corona infected person within your GPS location.
However, this is under development and may work limited features. It is still pending official release.
CM Meets opposition leader
CM Gehlot had discussion with opposition leader Gulab Chand Kataria at CM residence, today.
Cases Updates:
MOHFW – No. of cases in Rajasthan:

46
3 New cases identified, 2 from Bhilwara & 1 from Jodhpur
Update 26 March
Niti Aayog invites Volunteer Doctors
The Central and state governments are augmenting and expediting increase in healthcare services in every part of the country. In addition, COVID-19 'train hospitals' are being created in this regard. The Government of India requests for volunteer doctors who are fit and willing to be available for providing their services in the public health facilities and the training hospitals in the near future. We appeal to such doctors to come forward at this hour of need. You could also be a retired government, Armed Forces Medical Services, public sector undertaking or a private doctor.
Those doctors who wish to contribute to this and be a part of this nobel mission to serve the country may register themselves by clicking the link.
State Government releases 310 Crore
To provide immediate relief to destitute in the state, the government has released 310 crore. This fund will be utilised to provide INR 1000 direct bank transfer to families including BPL, State BPL, Antyodaya families which are not getting social benefits under other schemes. Other than these, registered labours, rikshaw-pullers, street vendors & helpless families which are not covered under any social pension schemes will also be provided this benefit.
If someone doesnot have a bank account then the district collector will provide them with CASH.
Trading of Grains at Mandi's
The Chief Minister has clarified that process of trading of grains across different Mandi's of State should continue with social distances measures. Only procurement of grains at MSP has stopped and there is no prohibition of buying & selling of grains at Mandi's.
Robot to serve drugs and food to COVID-19 patients in SMS hospital
A robot was brought to Sawai Man Singh Hospital for providing medicine and food to the Covid-19 patients undergoing treatment here on Wednesday. A private firm has provided the robot to the SMS Hospital on voluntary basis to help the nursing staff and doctors to maintain distance from the Covid-19 patients.
Corona Virus in Rajasthan: Update 25 March
Curfew in select areas of Bhilwara
Curfew was imposed at nine villages in Mandal tehsil of Bhilwara district late on Monday night after three persons, who showed symptoms of Covid-19, were found loitering in the rural areas earlier in the day.
277 from Middle East brought to Jodhpur
277 Indians were evacuated from the Middle East and brought to Jodhpur in two flights in the early morning today. They were kept in isolation at ITBP quarantine facility in Jodhpur. They will be kept under observation for 14 days to see if they have developed any coronavirus symptoms.
Army creates 3 Wellness centres
Army has developed 3 wellness centres to fight Corona Virus in Rajasthan at Jaisalmer, Jodhpur & Suratgarh.
Action to be taken against people asking Doctors to vacate houses
Rajasthan Government has released an order to take strict action against people asking Doctors to vacate rented houses.
Cases Updates:
National Level: A total of 22,928 samples from 22,038 individuals have been tested for SARS-CoV2 as on 25th March 2020 10:00 AM IST. A total of 553 individuals have been confirmed positive among suspected cases and contacts of known positive cases.
MOHFW – No. of cases in Rajasthan: 37
Total samples (including OPD, repeat and Contact of positive case : 1939
Positive: 37

Bhilwara – 13
Jaipur – 8
Jhunjhunu – 4
Jodhpur – 3
Update 24 March
India on lockdown for next 21 days
PM Modi declared that from midnight tonight onwards, the entire country shall go under complete lockdown for next 21 days.
The National Disaster Management Authority (NDMA), chaired by Hon'ble Prime Minister Shri Narendra Modi, in exercise of the powers under section 6(2)(i) of the Disaster Management Act, 2005, has issued an Order dated 24.03.2020, directing the Ministries/ Departments of Government of India, and the State/Union Territory Governments and State/ Union Territory Authorities to take effective measures to prevent the spread of COVID-19 in the country.
Permit System to come in place in Rajasthan
The Chief Minister said that the common man should not face any kind of problem for the important works. For this, the system of issuing permit should be made online, for which Mobile Application or Email Id could be used. He said that the movement of private vehicles should be strictly stopped.
Additional Chief Secretary Home Shri Rajeeva Swarup said that a Mobile App was being developed to facilitate the people taking permits for important works. He said that the people showing permit on mobile would not be stopped.
No Time Limit For Opening Shops Related To Essential Services
The Chief Minister said there was no prohibition on opening of shops selling essential commodities and no time limit had been fixed for these. Supply chain would remain smooth with opening of shops and there would be no crowd while buying items of daily use, which is the main objective of the lockdown.
Cases Updates:
National Level: A total of 22,694 samples have been tested till 24th March 20208:00 PM IST. A total of 536 individuals have been confirmed positive among suspected cases and contacts of known positive cases.
MOHFW – No. of cases in Rajasthan: 30
Bhilwara – 13
Jaipur – 8
Jhunjhunu – 4
Jodhpur – 3
Corona Virus in Rajasthan: Update 23 March
State COVID19 Relief Fund
Chief Minister of Rajasthan has established a special fund. – राजस्थान मुख्यमंत्री सहायता कोष कोविड-19 राहत कोष | Rajasthan CMRF COVID-19 Mitigation Fund, to seek citizen contribution towards the pandemic of Corona virus in Rajasthan. All contributions to the fund will be exempted from Income tax under Section 80-G of Income Tax Act 1961.
Note: Citizens are requested to check the details from CMO, website before making any contribution. Visit CMO Website
Note: Authentic government sites have cmrelief.rajasthan.gov.in at back, do not pay/contribute to other websites.
Domestic commercial airlines to cease operation
The operations of domestic schedule commercial airlines shall cease operations with effective from the mid night 23.59 IST hours on 24/3/2020. The restrictions shall not apply to solely cargo carrying flights.
War Room Created
A war room has been created to take care of difficulties faced by common people during the lockdown. It will be active 24hrs and can be contacted through helpline number 181. Abhay Kumar, Principal Secretary, DoITC, GoR would be the officer incharge of the war room.
Additionally, for availability & monitoring of health services, a 'health war room' has been created. This war room can be contacted through helpline number 108 | 104.
Complete Ban on Private Vehicles
To save lives from #coronavirus infection, the CM Rajasthan has taken the decision to ban all private vehicles on roads from tomorrow. Only vehicles related to essential services and those in exempted services would be allowed. State highway tolls will also be closed from 12 o'clock midnight.
Mobile App for Survey
To streamline the process of survey, Department of Information and Technology, GoR has launched a mobile application – Mobile Application-RSMP (Rajasthan Social Media Platform). Henceforth, the survey for assessing condition of Corona Virus in Rajasthan would use this app instead of paper & forms.
Two month wheat to be provided for NFSA beneficiaries
The Food and Civil Supply Department, GoR has issued an order that free wheat will be distributed to the beneficiary families of the National Food Security Act (NFSA) for two months April and May 2020.
Detailed order for Lockdown in Rajasthan published
The state government has released the document with details regarding different provisions under the current lockdown in state from March 22 to March 31
12 Private Labs authorised for Corona testing, None in Rajasthan
Indian Council of Medical Research (ICMR) has issued instructions to 12 laboratories chains having 15 thousand collection centres to start conduting tests for COVID.
Two kit manufacturers have also been approved so far.
Cases Updates:
National Level: A total of 20,707 samples from 23rd March 20208:00 PM IST. A total of 471 individuals have been confirmed positive among suspected cases and contacts of known positive cases
MOHFW – No. of cases in Rajasthan: 26
Bhilwara – 12
Jaipur – 6
Jhunjhunu – 3
Update 22nd March:
Letter to PM Modi
Chief Minister Shri Ashok Gehlot has requested Prime Minister Shri Narendra Modi to provide relief to tourism, hotels and other MSME units affected by the corona virus crisis and provide food and social security to the weaker sections of the society.
In the letter, the Chief Minister said that due to virus infection, about 23 lakh construction workers, five lakh registered factory workers and about one lakh street vendors of urban areas have faced a major employment crisis. The Central Government should announce a relief package for them so that these classes can raise their livelihood.
Relief for Tourism & Hotel Industry
To provide relief to tourism & hotel Industry, Chief Minister has announced to review & recalculation of cost of Bar license for hotels & restaurants. Additionally, he also approved to reimburse SGST from April 2020 to June 2020.
The chief Minister also written a letter to Union finance minister, Nirmala Sitaraman, requesting for exemption or postponement of CGST, rescheduling of bank loan instalment of hotels and extension of income tax payment a few months further.
Public Transport Banned
Public transport buses (roadways and private) has been banned due to the complete lockdown in Rajasthan.
MOHFW – No. of cases in Rajasthan: 22
Bhilwara – 12
Jaipur – 6
Jhunjhunu – 3
Update 21st March
Complete Lockdown till 31st March
Chief Minister Ashok Gehlot issued orders of complete lockdown of the state beginning tomorrow 22nd March till 31st March to contain the spread of Covid-19. All malls, government and private offices, transport facilities and other services barring essential services related to saving life of the people, will remain closed across the state. The order says that all factories, public transport, shops, private and government office will remain closed from March 22 till March 31.
25 Cases in the State
According to the health department figures, 25 persons have been found infected with the disease across the state. Out of those, eight cases were reported on Saturday including six from Bhilwara and one each from Sikar and Pali. A sample from Pratapgarh has sent for re-test.
Government Aid:
To ensure that no family faces a shortage of food supplies, Gehlot said that families registered under NFSA will get the two months of food supplies in advance at free of cost. Similar arrangement has been made for street vendors, daily wage earners and those in need living in the urban areas. The local administration will provide them two months ration on or from April 1. The labour department will make sure that no employee working in factories to be given pink slips during the lockdown period.
Updates 20th March
Jails to have isolation ward
Chief Minister directed to make an isolation cell in every jail so that corona infection does not spread among prisoners.
Legal Action against Black Marketing
Chief Minister said that black marketing of medicines, medical equipments and necessary items in the situation of crisis will not be tolerated. Strict legal action should be taken against the concerned retailer on getting complaint of black marketing.
Total Cases in Rajasthan:
As per Mohfw, total number of confirmed cases is 17 in Rajasthan, including 15 nationals and 2 foreigners.
Updates 19th March
Shut Down in Government Offices
Chief Minister Shri Ashok Gehlot has given directions to shut down all government and semi-government departments, local self-governance institutions, government corporations and boards barring few departments concerned with essential services. He has directed to postpone all examinations of students of all schools and colleges in the State till further orders.
No Shut Down in These Departments
There will be no shut down in Medical and Health, Medical Education, Ayurveda, Energy, all Electricity Corporation, Waterworks, Local Self Governance, Urban bodies, Home and Police, Prison, Home Guard and FSL, Finance, Food and Civil Supplies, Disaster Management and Assistance, Panchyati Raj, Information and Technology, Personnel (important branches), Transport including Roads and other Urban Bus Corporation, Jaipur Metro, General Administration, State Motor Garage, Legal and Information and Public Relations departments. In the remaining departments, 50% personnel will be present in the office and 50% personnel will Work from Home. Personnel can work online from home.
Action against Violators
Persons identified with symptoms of this disease and if they do not follow the directions of home isolation, then action will be taken against them under section 188 of Indian Penal Code.
Rajasthan Hight Court issues Notification
In view of the outbreak of Corona virus in Rajasthan (COVID-19), the Presiding Officers of subordinate courts shall hold the court for urgent work only from 02.00 pm to 04.00 pm on each working day.
For de-congestion in the court premises, the strength of non-gazetted staff in High Court & subordinate Courts shall be reduced by 50% and the staff would be utilized alternatively.
Janta Curfew / People's Curfew – 22nd March from 7 AM to 9 PM

PM Modi's Address to Nation
Updates 18th March
Section 144 Imposed across State till 31st March
In the review meeting on 18th March 2020, Chief Minister has decided to impose section 144 across Rajasthan till 31st March to prevent spread of Corona virus in Rajasthan.
3 More test Positive: 1KM Curfew zone put
A family of three from Jhunjhunu, who returned from Italy on March 8, tested positive for Covid-19 on 18th March 2020. The state government has imposed a curfew in the one-km radius of the residence of the three patients in Jhunjhunu. The first containment zone in the state to prevent the spread of the virus has also been created in the area.
484 from Iran reach Jaisalmer
A total of 484 Indian citizens evacuated from Iran, have been quarantined at the wellness facility in the Jaisalmer Military Station.
Monuments shutdown till 30 March
The Archaeological Survey of India (ASI) will shut all 224 protected sites across the state, including the popular Chittorgarh Fort, until March 30.
Fairs & Festival Celebrations cancelled
The state tourism department has cancelled celebrations of all festivals till March 31 including Rajasthan Foundation Day. The other festivals include Shekhawati tourism festival, Gangaur fair in Jaipur, Gangaur festival in Sahapura, Mewar festival in Udaipur and Baldev cattle fair in Nagore.
Railway Platform Ticket priced at 50
In a move to contain Coronavirus, North Western Railway (NWR) has increased platform ticket rates from the existing Rs 10 to Rs 50 per passenger. Select Station where this has been implemented include Jaipur, Alwar, Bandikui, Gandhi Nagar (Jaipur), Phulera, Kishangarh, Ajmer, Sikar and Durgapura (Jaipur).
Rajasthan health department declares Covid-19 an epidemic
On 12th March 2020, the state health department declared coronavirus an epidemic in the state and issued the Rajasthan Epidemic Disease, Covid-19 Regulations (REDCR), 2020. After the declaration it will be mandatory for each doctor in the state to report such cases immediately to health authorities.
Coronavirus Test Labs in Rajasthan
The coronavirus lab test facility is available at these medical institutions in Rajasthan:
Sawai Man Singh, Jaipur
Dr. S.N Medical College, Jodhpur
Jhalawar Medical College, Jhalawar, Rajasthan
SP Med. College, Bikaner, Rajasthan
ICMR approved Govt. Laboratories:
Sawai Man Singh Medical College, Jaipur
Dr. Sampurnanand Medical College, Jodhpur
Jhalawar Medical College, Jhalawar
RNT Medical College, Udaipur
SP Medical College, Bikaner
All India Institute of Medical Sciences, Jodhpur
JLN Medical College, Ajmer
Govt. Medical College, Kota
Important Links: