Global Multidimensional Poverty Index (MPI) is an international measure of multidimensional poverty covering 107 developing countries. The Index was launched in 2010 by the Oxford Poverty and Human Development Initiative (OPHI) and United Nations Development Programme (UNDP) for UNDP's Human Development Reports.
What is the global Multidimensional Poverty Index (MPI) ?
Sustainable Development Goal (SDG) 1 aims to end poverty in all its forms everywhere. Although previously defined only in monetary terms, poverty is now understood to include the lived reality of people's experiences and the multiple deprivations they face. 
Structure of MPI
The global MPI examines each person's deprivations across 10 indicators in three equally weighted dimensions—
Health,
Education
Standard of living
Each of the dimension weighs equally (1/3) and so individual indicators in health & education weigh 1/6 and individual indicators in standard of living dimension 1/18.
A person is multidimensionally poor if she/he is deprived in one third or more (means 33% or more) of the weighted indicators (out of the ten indicators). Those who are deprived in one half or more of the weighted indicators are considered living in extreme multidimensional poverty.
The overall MPI ranges from 0 to 1, and higher values imply higher poverty.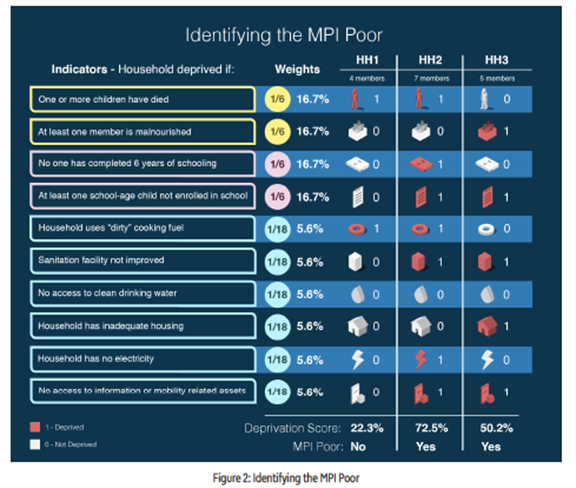 Global Multidimensional Poverty Index 2020
In July 2020, Global Multidimensional Poverty Index 2020 was released by the United Nations Development Programme (UNDP) and the Oxford Poverty & Human Development Initiative (OPHI).
The global Multidimensional Poverty Index 2020 covers 107 countries—28 low income, 76 middle income and 3 high income and and 5.9 billion people in developing regions.
Key Findings:
Across 107 developing countries, 1.3 billion people—22  percent—live in multidimensional poverty.
About 84.3  percent of multidimensionally poor people live in Sub-Saharan Africa (558 million) and South Asia (530 million).
65 countries reduced their global Multidimensional Poverty Index (MPI) value significantly in absolute terms. Those countries are home to 96 percent of the population of the 75 countries studied for poverty trends.
Ten countries, including China, came close to halving their MPI value.
Four countries halved their MPI value.
The study finds that on average, poverty levels will be set back 3 to 10 years due to Covid-19.
Neighbouring countries like Sri Lanka (25th), Bhutan (68th), Nepal (65th), Bangladesh (58th), China (30th), Myanmar (69th) and Pakistan (73rd) are also ranked in this index.
India:
India (2005/2006–2015/2016) did so nationally and among children and had the biggest reduction in the number of multidimensionally poor people (273  million). 
India is 62nd among 107 countries with an MPI score of 0.123 and 27.91% headcount ratio, based on the NFHS 4 (2015/16) data.
For India, MPI utilises the National Family Health Survey (NFHS) which is conducted under the aegis of Ministry of Health and Family Welfare (MoHFW) and International Institute for Population Sciences (IIPS).
Global Multidimensional Poverty Index and India
NITI Aayog as the nodal agency has been assigned the responsibility of leveraging the monitoring mechanism of the Global Multidimensional Poverty Index (MPI) to drive reforms.
NITI Aayog has constituted a Multidimensional Poverty Index Coordination Committee (MPICC). The MPICC, chaired by Ms Sanyukta Samaddar, Adviser (SDG) has members from relevant Line Ministries and Departments. These Ministries/ Departments have been mapped to the ten parameters of the index. Experts from OPHI and UNDP, as the publishing agency, have also been onboarded for their technical expertise.
The inaugural meeting of the MPICC was held on 2 September 2020. Preparation of a MPI Parameter Dashboard to rank States and UTs, and a State Reform Action Plan (SRAP) are at an advanced stage of development. The MPICC will next be organising a workshop with representatives of States and UTs for taking the SRAP forward.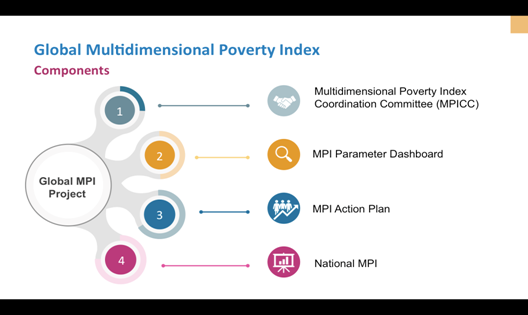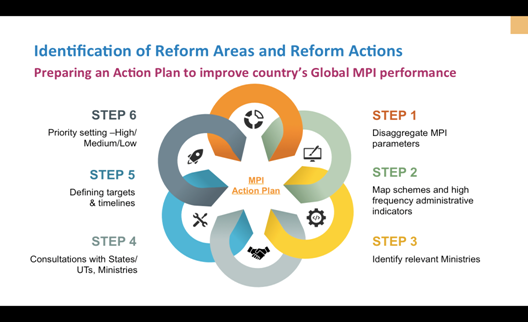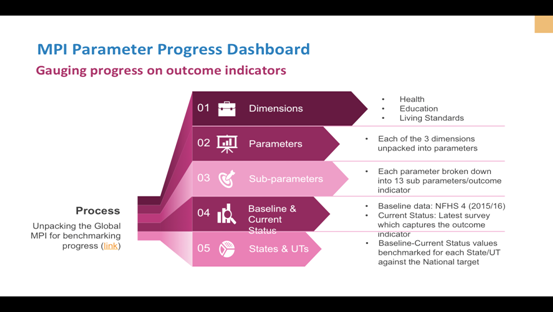 References: